So your asking yourself why should I be choosing Car Audio Essex to fit my multimedia and security? We have taken on a huge amount of tests/exams and audits to prove to all customers in the Essex area, You will get a good installation and service when you choose us.
We not only fit all our products to a high standard but we supply strictly UK stock only to make sure you get the best from your product experience with us.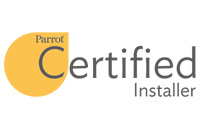 One of the exams Parrot launched in 2009 was the Parrot Approved certified installer program this was set up for all mobile installers offering the best piece of mind for the customer knowing you have the best installation and service along with a full 2 year warranty with is only available from approved Parrot certified dealers.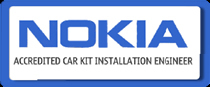 Nokia Accredited Installer program was the most popular exam for handsfree bluetoothcar kit installations in around 2008, We became accredited and have taken regular audits to prove our installations are still to this day the very best in the industry. Nokia was one of the toughest exams to go through and pass.

TRI Thatcham approval exam was taken in 2010 which was a replacement for VSIB which went into liquidation in 2009 due to many installers not signing up to the program. TRI was an exam which installers could take and prove to there customers they would get a safe and reliable installation not matter which Thatcham approved system they went for.
We will issue a Thatcham certifcate with every Thatham alarm, immobiliser, Tracker installation to confirm it meets all approval standards.
We are approved to supply all major Thatcham brands Cobra, Clifford, Viper, Autowatch, Smartrack, Tracker, Toad, Sigma.

Approved by the best security and entertainment brand in the world, Cobra are used by the best for stunning customer backup support and the most reliable alarm systems which use the latest features and other brands are trying to catch up with there latest releases.
We are approved the fit all Cobra products and issue a full written certificate on completion when the tracker or alarm is installed and meets Thatcham requirements.
All Stock we supply from Cobra is UK and is fully guaranteed, Most Cobra systems carry a 3 year warranty due to being so reliable.