Stolen Vehicle Trackers


Worried about your car being stolen? Did you know about 90% of vehicles now are stolen with the owners keys! Car Audio Essex run by In Car Advancements in Essex offer a wide range of stolen vehicle tracking systems, our best selling unit is the Smartrack Trident S7 unit using the latest technology and Smartrack offering the fastest average recovery time of 21 mins.
Many insurance companies won't even cover you for theft unless a Thatcham approved stolen vehicle tracking device is installed. This either needs to be a Thatcham S5 or S7 units. We can install either unit to your vehicle in order to keep your insurance happy.
We also offer Metatrak S5 deadlock units which stops the vehicle from starting unless a Meta ADR tag is within range. This is the highest spec Thatcham S5 tracking system with the deadlock add on.. All the stolen vehicle tracking systems we supply and install meet the latest Thatcham requirements and we only use Thatcham TRI-Engineers to install your unit.
We fit Plant tracking systems aswell these can also be fitted with an immobliser which means you can kill the starter feed from your mobile phone! ( Only applies to certain units )

Fleet Tracking is very popular in today's world don't be left behind, find out where your drivers are on demand, you can also view the speed the vehicle is being driven at. Which is important to know, so you can save on your fuel costs.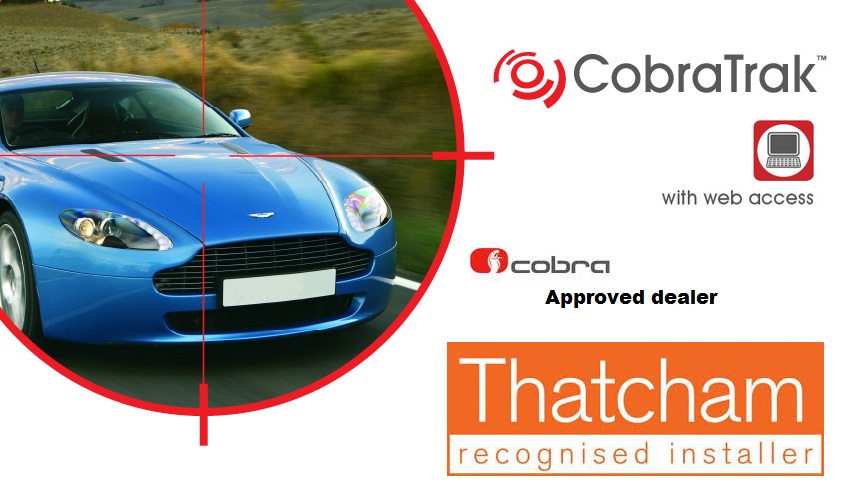 With more than 300,000 vehicles stolen every year, the UK is the worst affected country in Europe. Today's high value vehicles provide rich pickings for today's new breed of professional vehicle thieves who steal to order. The Vodafone Protect & Connect uses the latest GPS / GPRS / GSM technology, providing pinpoint accuracy and unparalleled service levels. Police liaison is conducted in local language through Cobra'snetwork of Secure Operating Centres across 36 European countries, Russia and South Africa.
All Vodafone Protect & Connect systems are Thatcham accredited - which can reduce insurance premiums - and carry a 3 year warranty which is usually transferable to a replacement vehicle, enhancing the vehicle's residual value and protecting the owner's initial investment.
The Vodafone Protect & Connect system which detects unauthorised movement of a vehicle when the ignition's switched off (e.g. if the vehicle is towed away).
Please be aware the new Cobratrak units are under the Vodafone Automotive brand. and have been renamed protect & connect.
We can offer the Vodafone Automotive Protect & Connect units in Thatcham S5 or Thatcham S7. The only difference between these 2 system is the S5 comes with ADR tags to make sure it's the owner driving the vehicle.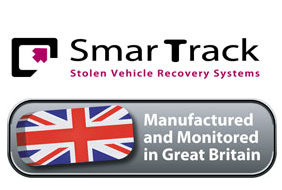 Smartrack have won 21 awards in the last 7 years for leading the way in customer service and the customer back up they offer. The Smartrack Trident S7 is the most popular unit due to the device being slightly cheaper than other units. But don't let that put you off buying a Trident S7 they come in a ABS protective casing and are fully Thatcham S7 approved with 24/7 tracking 365 days per year. The Trident also has a full on board back up battery if the vehicle battery is disconnected. They also feature a sleek mobile app so you can view the basic location of the vehicle at any time.

The subscription charges are fair at£12.49 a month or £149 yearly. And they also offer a £399 for life of vehicle ownership. This is a fantastic unit if you just need to keep your insurance company happy or just wanting peace of mind. Smartrack are also known for very fast alert times for when the vehicle battery is disconnected or the vehicle is lifted onto a low loader.
Smartrack also offer the NEW Thatcham S5 system which uses your smartphone ( Apple or Android ) as a ADR tag meaning you don't need to carry any extra items when driving your vehicle. Simply keep the Smartrack D-id app running on your smartphone and drive the vehicle as normal. All the other features are the same as the normal S7 unit. Please be aware the S5 unit does have a slightly more expensive subscription @ £13.49 a month or £159 yearly.

We are now approved dealers for the brand Tracker, These offer a solid way of getting your car back even if its put into a metal container, Tracker offer VHF which stands for very high frequency.
While RF is a slower way of finding a vehicle it is the most robust signal and the unit can be hidden in even more hard to find locations.
Tracker offer a unit which is GPS-GSM & VHF this is the most advanced system on the market offering the best possible protection for your vehicle, I would advise only getting this unit if your very worried about your vehicle being taken.
Please be aware this system comes with high subscription costs.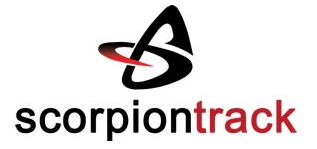 Scorpion has won more awards again for the outstanding tracking system, not only does it come with a 5 year warranty as standard but it also comes with web tracking as standard. So you can view your vehicles location on your desktop pc or Iphone.
If the vehicles battery is disconnected the tracker has a battery life of 120 days which is the longest in its class. Scorpion Track has the lowest subscription cost at only 130 per year, There are longer subscriptions if needed. Scorpion have also set up a system which texts the owner if the vehicle has been started, this is used against the highest crime which is a vehicle stolen with the owners keys. This is an extra £30 per year if you would like to add the key theft add on to your subscription.
European coverage comes standard in the £130 per year, Many vehicle manufacturers inc. Aston Martin, Ford, Renault, Toyota, Subaru, DAF, Triumph all use Scorpion track as there approved tracking system. This put confidence into the customer knowing they are getting a unit which is suited to that brand of vehicle.
Scorpion have also released a NEW Thatcham S5 unit which means a ADR tag has to be within the vehicles interior when the vehicles engine is started. without this tag an alert will be sent through to head office. And they will contact you directly to find out if this is a stolen vehicle attempt.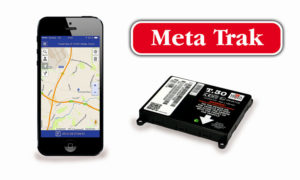 Metatrak is known for the most advanced stolen vehicle tracking systems in the world. The Meta systems all come with the first years subscription included free of charge included with the unit. The great part about this means you don't need to worry about activating the unit yourself. The engineer commisions the whole thing on site.
The Metatrak unit is very small & thin meaning it can be hidden very well behind trims or carpet in your vehicle. Once installed you wouldn't even know it's there. The system comes with a free of charge mobile smartphone app for Apple & Android phones. This app allows you to view the vehicles location and previous routes the vehicle has taken. You can also view battery voltage which is ideal if it's a weekend vehicle.
Metatrak offer 3 main units in there product line.
Metatrak S7 - Full stolen vehicle recovery unit offering the first year subscription free of charge, mobile smartphone app, on board back up battery, tilt sensor.

Metatrak S5 - The same features as above but also featuring a ADR tag which has to be inside the vehicle when it is being driven, without this tag the Meta call center will phone and ask why the vehicle is moving without a tag / if it has been stolen. ( this device offers the fastest recovery in the event of your vehicle being stolen )

Metatrak S5 Deadlock - The exact same features as the Meta S5 as above but also featuring Starter Immobilisation. This means if a tag isn't present the vehicle won't be allowed to start. Giving you complete protection against key cloning and key scanning.
All Metatrak systems come with a full 3 year warranty.
Ikey Self Track Device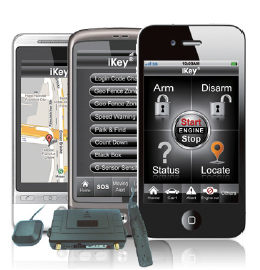 Don't want to pay subscription fee's? Have total control over your car and track it at any time!
Peace of mind, Convenience, Safety and Control of your vehicle and its contents.
The new iKey Intelligent Tracking system from Synergy Automotive Electronics, will provide you with peace of mind and security, with the added benefit of unique features to control your vehicle remotely
from virtually anywhere in the world.
All this without any monthly contracts necessary, you can use either a PAYG or contract SIM if
desired. The following features are available, some may require an
additional interface and installation.
Control your vehicle remotely via your Android®, Blackberry® or
iPhone® by downloading the app for your device.
Locate your vehicle — Use the Locate tab to provide an instant
location to your vehicle location via Google Maps link.
Receive Alarm Alerts from your original equipment or aftermarket
alarm system when there's an intrusion alert.
Remotely Lock & Unlock your vehicle from any distance, provides
complete peace of mind, if you're locked out or if your unsure if you locked
your vehicle and you don't want to leave it unsecured
Remotely Immobilise your engine to provide additional security
Geo Fence your vehicle — Alert given when your vehicle enters or
exits a pre-set zone defined by the user in the Smartphone App settings.
Speed warning — alert given when the vehicle exceeds a set speed for
a certain period of time, set within the Smartphone App settings.
Park & Find — Never lose your car again in the Airport or Shopping
Centre. You can park your car, then the system will guide you back. Within
the App, there's also a count down timer with alarm to avoid getting
expensive parking tickets!
SOS Button — Optional SOS Button installed in your car is available
Please Note - The SIM Card balance function does not normally
function in the United Kingdom.
Units we supply and install
Smartrak Trident S7


Smartrack S5 D-ID

Vodafone Automotive Protect & Connect S7


Vodafone Automotive Protect & Connect S5


Scorpion Track S7


Scoprion Track S5

Meta S7


Meta S5

Meta S5 Deadlock
Brands We Supply and Fit in the Essex Area
Cobra ( Vodafone Automotive )

Meta
Got a question or would like a quote contact us