Van Dead Locks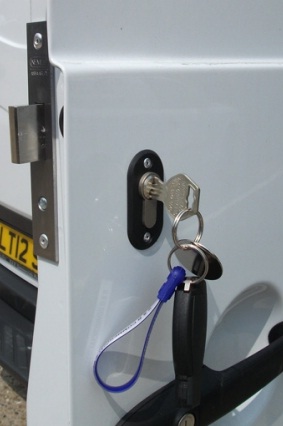 Leave tools in your van over night? Its common when you have a busy day at work you get home and the last thing you want to do is unload the van.
Thatcham approved deadlocks are a must to give your van that extra edge of security, The chance of theft is a lot less than a van with no additional locks at all. The attack time for entry is increased by a far amount. Deadlocks just give that extra piece of mind when leaving your vehicle.
The locks we supply and install are branded and are more expensive than cheaper locks on the market, The reason we choose branded locks? They have been through Thatcham testing which means they are put through there paces attack time wise. and have less chance of the lock jamming, high quality anti bump and anti pick euro cylinder locks come with our Thatcham kits.
With cheaper locks the euro lock cylinders can jam due to poor components used and when this happens you have a big issue on your hands. How will you get the door open during the working day? you have to call a locksmith to drill and replace the euro cylinder and this can cost a small fortune.
Why don't we sell the cheaper standard series deadlocks? Because they are very easy to lock bump the key euro cylinders or snap the barrel from the vehicle, We want to make sure the locks will last for many years and the Thatcham series are guaranteed to last. Cheaper locks also come with regular euro cylinders which are not designed for automotive use, Which can cause problems with locking and unlocking.
Our kits are designed for your make and model of vehicle and they come with neat fitting plates and high strength rivets for extra security. All edges are completely smooth making sure when you put the key in the lock it throws the catch with ease. Because our kits are not universal they have the best fitment possible on your vehicle.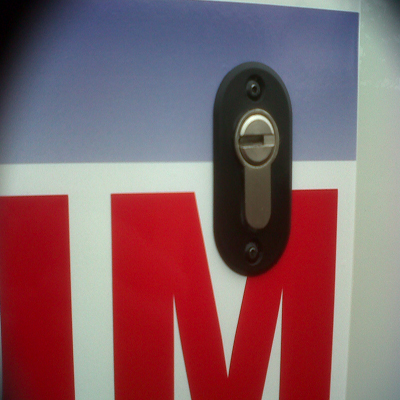 Unlike cheaper kits the ones we supply are designed and suited to the vehicle which means they have securing plates and are well suited to the vehicle with high quality finishing.
All the holes we drill in the panel work are protected by rust protector then painted over so you can be assured the locks will last for many years with no trouble and the areas where the locks have been fitted will remain rust free.
What maintenance do van deadlocks require? Not a great deal to be honest we can supply L4V grease which is approved and will meet all the lock requirements including working in very cold weather where other lubrication products may break down L4V grease keeps the locks moving and protects them from dirt and rust.
The Thatcham approved locks also come with approved metal plates so the door can't be buckled easily to gain access. Due to the locks being approved a copy of the key can't be brought without the security number which is given when the lock have been fitted on completion.
We also supply a range of slam locks which can be added in place of the original door locking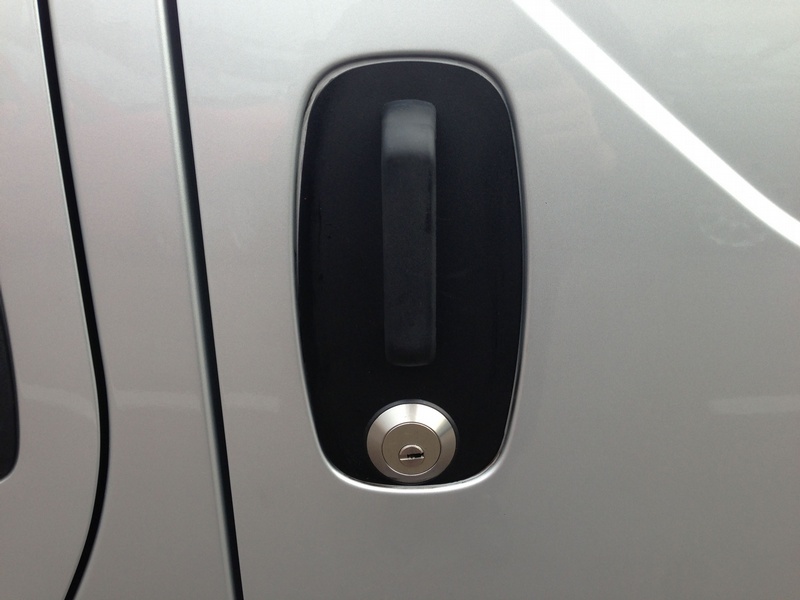 We can fit a solid metal plate which is designed and cut to shape for your vehicle which stops the most common entry today which is attacking the lock direct from the handle. We also add the matching slam lock to your metal plate which is a high security slam lock.
A slam lock means you can shut the door and the door locks every time, multidrop delivery drivers use these locks all the time because they don't always have time to lock the door. A slam lock will lock every time meaning you need to key the next time you are wanting to open the door. A safety release is aways kept inside the vehicle in case the door slams shut behind you.
We would also advise an alarm to be fitted as a extra measure of security.
Got a question or would like a quote contact us